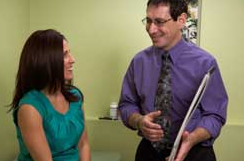 Are Naturopaths licensed in Florida?
The FNPA (Florida Naturopathic Physicians Association) consisting of other 4-year Naturopathic Medical School graduates and myself are currently trying to re-establish licensure for Naturopathic Physicians in Florida. There have not been any new Naturopathic Physicians licensed in Florida since 1959 when the state legislature closed the ability to grant new licenses. Today, with the overwhelming popularity of a more natural approach to medicine and the need for physician-level practitioners in natural medicine there is growing support for our efforts to reopen Naturopathic Physician licensure in Florida. If you'd like to help re-establish licensure, please visit the Florida Naturopathic Physicians Association website.
Do you practice Naturopathic Medicine in your office?
The practice of Naturopathic Medicine is legally prohibited in the state of Florida. The last licensed, practicing ND, Dr. Wilson Geldner, died a few years ago at 88 years old after 58 years in practice. Florida has not licensed new Naturopathic Physicians since 1959 so I am not licensed as a Naturopathic Physician in Florida and all information regarding Naturopathic Medicine provided by this office is to help the public understand this form of medicine and to support the re-licensing efforts in Florida and the licensing in other states. I keep my Naturopathic Physician's license current in Vermont while we try to reopen licensure in this state. Currently, I practice under the scope of my Acupuncture Physician's License. The scope of practice for the acupuncture license is very good in Florida. We are considered Primary Care Physicians so we can treat patients including prescribe non-pharmaceutical herbal and homeopathic remedies (including injection therapy), counsel on nutrition and healthy lifestyle and perform Tui Na which is Traditional Chinese Medical bodywork. For a full description of the Acupuncture Physician scope of practice visit MyFlorida.com and search for the Acupuncture License statutes and rules.
Before your visit you will be asked to fill out a comprehensive intake form to give us a more complete picture of your health history (Click here to download form). You will bring the form, any labs or diagnostic reports, supplements, medications and questions you might have to your first visit. Your first visit will usually take about an hour and a half at which time we will review your health concerns, history, lab results, supplements and medications. We will talk about your goals and customize a plan of action most appropriate for your needs. Follow-up visits usually last about an hour and phone follow-ups are available in some cases.
What type of conditions does the clinic address?
We focus on optimizing the body's functioning and promote its own healing ability. The main goal is to establish the foundations of health including improving diet, digestion and elimination, hormonal balance, sleep and relief of stress. We can help facilitate healing whether you are seeking relief from acute illnesses or pain such as the common cold, allergies, sinus infections, back pain or headaches or chronic conditions such as cardiovascular disease, hormone imbalances, degenerative disease or life threatening illness.
Does my insurance cover visits?
We are contracted with CIGNA and many insurance plans are now offering coverage for Acupuncture and some alternative therapies. Please call the office for more detailed information.
Can I get off of my medications?
I do not take anyone off of medication. However, many people require less medication as their health improves. With good follow-up and coordination with a patient's primary care physician to monitor medication dosage many people have decreased or discontinued their medications safely.
FLORIDA DISCLAIMER
Unlike many other states, Florida does not currently issue licenses to naturopathic doctors and it is legally prohibited to practice Naturopathic Medicine in Florida. All information regarding Naturopathic Medicine provided by this office is to help the public understand this form of medicine and to support the re-licensing efforts in Florida, and the licensing in other states.